You Come or I Go was an event skill card for the Pirate Invasion Event. It was only available from promotional Skill Packs or Craft.
Select a character within 7 blocks, and bring character to my location or move to selected character's location.
Strategy
Edit
In the middle-game, there are many opportunities where both outcomes are favourable.
In the end-game, when you don't have the pull / drag card needed to end the game, this card can often apply its effects quite reliably (half the time).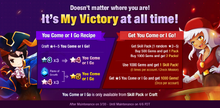 Ad blocker interference detected!
Wikia is a free-to-use site that makes money from advertising. We have a modified experience for viewers using ad blockers

Wikia is not accessible if you've made further modifications. Remove the custom ad blocker rule(s) and the page will load as expected.