April 14, 2016 - April 20, 2016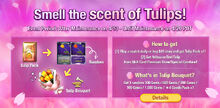 To all contestants of the Genius League!
Gather pretty Tulips and craft Tulip Bouquet!
Gather Yellow Tulip and Red Tulip to create a Tulip Bouquet!
How to Obtain Tulips
Edit
Tulips are obtained from the Tulip Pack which can be obtained from Event Missions, Consecutive Missions, Skillcard Premium Draw / Combine, or purchasing a $15 item and receive x1 Tulip Pack.
Note: Yellow Tulip is more common than Red Tulip in Tulip Pack.
Craft a Tulip Bouquet to obtain one of the following items randomly,
300 Gems
500 Gems
700 Gems
100 Gems
1,000 Gems
4★ Goods Pack x1
Crafting List
Edit
| Craft Reward | Materials |
| --- | --- |
| 50,000 Gold | x5 Yellow Tulip |
| 5B JOY | x10 Yellow Tulip |
| 100 Gems | x15 Yellow Tulip |
| x1 3★~4★ Goods Pack | x20 Yellow Tulip |
| Tulip Bouquet | x3 Red Tulip |
Ad blocker interference detected!
Wikia is a free-to-use site that makes money from advertising. We have a modified experience for viewers using ad blockers

Wikia is not accessible if you've made further modifications. Remove the custom ad blocker rule(s) and the page will load as expected.