More and More is a Skill Card that can be obtained from Premium Skill Card Draw, Combine, or Dream Pack (temporarily).
Selected character's toll fee increases by 200%/100% per turn, until landing on opponents' properties.
Mechanics
Edit
This skill card is mistranslated. The correct effect is: Selected character will increase toll fee paid by 150% every turn, until landing on opponents' properties.
It works similarly to Curse, but lasts for as many turns until the character steps on an opponent's properties.
The depicted artwork is used as the game's icon. It is the first skill card to be used as an icon.
The first skill card to have an official figurine of it.
Illustration
Edit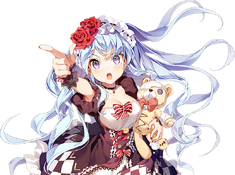 Ad blocker interference detected!
Wikia is a free-to-use site that makes money from advertising. We have a modified experience for viewers using ad blockers

Wikia is not accessible if you've made further modifications. Remove the custom ad blocker rule(s) and the page will load as expected.