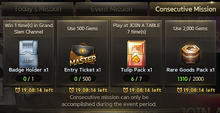 Missions are quests that refresh daily and rewards the player with items upon completion. Clearing missions is a steady way to gain Entry Tickets for crafting, and sometimes encourages users to spend gems.
Daily Missions
Edit
The Daily Missions are under the "Today's Mission" tab. They refresh daily at 7:00 PST and include:
| Description | Reward |
| --- | --- |
| Win 1 time(s) in Grand Slam Channel | Badge Holder |
| Win 3 time(s) in Grand Slam Channel | Badge Holder |
| Play at JOIN A TABLE 5 times | × 1 |
| Use 20 Gems | × 10 |
| Draw dice fragments 1 time | 20,000 Gold |
| Play Team Match at JOIN A TABLE 1 times | Premium Skill card x2 |
| Play Singles Match at JOIN A TABLE 2 times | 30,000 Gold |
| Combine skill card 1 time | 10,000 Gold |
| Draw character 1 time | 10,000 Gold |
Event Missions
Edit
Event Missions are present when there is an event. Most often they will be described in an event promotional poster (the ones that circulate through the banner in the lobby user interface) with the note "(see missions)".
There is another kind of event missions, which come at random times and give push notifications to the users. Generally they involve playing a few games, or using gems to get some gems.
Consecutive Missions
Edit
Every day some Consecutive Missions may be present. These missions often come in sequences, where completing part of them will unlock the rest. They will be present when there is an event, and these may span across multiple days. It may also be the case that these mission would belong to Event Missions otherwise, but are placed in this tab because they are consecutive across days in nature.
Examples include:
Weekend item showers
Repeatable gem-spending events
Daily play amount missions
Ad blocker interference detected!
Wikia is a free-to-use site that makes money from advertising. We have a modified experience for viewers using ad blockers

Wikia is not accessible if you've made further modifications. Remove the custom ad blocker rule(s) and the page will load as expected.