June 16, 2016 - ??
To all contestants of the Genius League!
Did you think only Sanrio Characters and Dices appear?
Well, think again!
Hello Kitty Map is out and ready for contestants to play on its field!
The Hello Kitty Event Map is part of the Game of Dice x Sanrio Characters event. The Event Map has two new features that can be risky or benefit you.Lv.1~3 Ghost Cities will be created at the start of the Match.
Mary's Wheel
Edit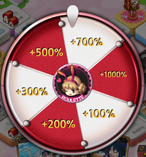 Multiplier chosen at the roulette makes toll on random cities increase. It can be increased by +100/200/300/500/700/1000%. The block is located between New York and Paris and is 4 blocks behind Start.
Dimension Shift upon landing on START block. The player will be randomly teleported to another block.
Strategy
Edit
Skill Cards
Edit
A video demonstration of how the Hello Kitty Event Map works.
Ad blocker interference detected!
Wikia is a free-to-use site that makes money from advertising. We have a modified experience for viewers using ad blockers

Wikia is not accessible if you've made further modifications. Remove the custom ad blocker rule(s) and the page will load as expected.