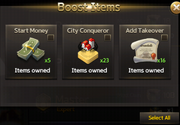 Boost Items are collectibles owned by players that may be used to gain a minor benefit in the current game. Up to one of each can be selected; If it is not owned, they can be bought instead. The boost items which are used by every player is displayed when it activates in the game. There exists three types of them:
Start Money Bonus
Edit
Using it will give you additional start money when the game begins. The bonus does not stack with other start money bonuses and is 10% of the start money of the channel fee.
It costs 1,000 gold.
City Conquerer
Edit
Using it will let you acquire an empty city (by random) on your first turn.
It costs 1,500 gold.
Takeover Certificate
Edit
Using it will add an additional takeover certificate item for you to use during the game. It is especially helpful for maps where you have few takeover certificates to start off with, or in competitive games as it gives you more chance for taking over properties.
It requires VIP Level 3 to buy and costs
Ad blocker interference detected!
Wikia is a free-to-use site that makes money from advertising. We have a modified experience for viewers using ad blockers

Wikia is not accessible if you've made further modifications. Remove the custom ad blocker rule(s) and the page will load as expected.