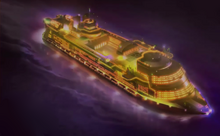 The Bella Cruiser is a giant luxury cruise. You're invited to the Bella Cruiser through a black envelope. This is the tutorial area when you're playing for the first time.
The Suspicious Man approaches you when you step into the cruiser and tests you. This initiates the tutorial.
The Bella Cruiser is where the Genius League takes place.
The character, Isabelle, lost her parents on the Bella Cruiser while wandering around.
The Bella Cruise provides VIP Service to contestants.
Ad blocker interference detected!
Wikia is a free-to-use site that makes money from advertising. We have a modified experience for viewers using ad blockers

Wikia is not accessible if you've made further modifications. Remove the custom ad blocker rule(s) and the page will load as expected.